Four key building blocks of the future program
TOGETHER – Strategy 2025
The new Group strategy comprises a raft of far-reaching strategic decisions and specific initiatives essentially aimed at safeguarding the Group's long-term future and generating profitable growth. A total of 16 strategic Group initiatives are assigned to the four key building blocks of the program. The latter are: comprehensively transforming our core automotive business; establishing a new mobility solutions business; strengthening the Group's innovative power; and secure funding of our investments.
First key building block: transforming our core business
Developing, building and selling vehicles will remain essential for the Volkswagen Group going forward. However, there will be far-reaching and lasting changes to this business. That is why we are profoundly restructuring our core business to face this new era of mobility.
As part of this transformation process, we will prospectively sharpen the positioning of the Group brands and optimize the vehicle and drivetrain portfolio to focus on the most attractive and fastest-growing market segments. The Group's product portfolio will be geared to profitability, taking the needs of customers and regional markets into account. One focus will be on e-mobility. The regional growth strategy that has been launched will continue in particularly attractive automotive markets. Expansion and investment plans for North America and the expansion program in China will remain in place. In Asia, especially, we want to tap the economy segment, i.e. the segment comprising attractively priced entry-level products, forging partnerships with local companies to achieve this.
As part of its policy of generating profitable growth, the Volkswagen Group will review and streamline its modular toolkits so as to reduce complexity in development and production and simultaneously enhance efficiency. Transforming our core business also encompasses systematically promoting an entrepreneurial mindset and approach, which is why we implemented a product line organization in the high-volume passenger car brands. The components business will be realigned, with the aim of improving competitiveness and efficiency, and making an important contribution to the trends that will shape the future.
With regard to vehicles and drivetrains, special emphasis will be placed on e-mobility. In the coming years, we intend to launch more than 30 different types of purely battery-powered electric vehicles (BEVs) and to sell between two and three million BEVs by 2025 – equivalent to around 20–25% of the Group's expected total unit sales.
In light of the expected rapid gains in market volume and unit sales of BEVs, the Volkswagen Group will develop battery technology as new core competency, thus reducing the risk of becoming dependent on suppliers in these areas. On top of that, we will work together with partners.
A further lever for transforming our core automotive business is to develop new core competencies in forward-looking areas such as autonomous driving and artificial intelligence. We need to provide the necessary resources – in order to develop a competitive technical solution for a self-driving system (SDS) and have it licensed by the end of the decade.
Our goal and our aspiration is to systematically put ourselves in our customers' shoes. At three Volkswagen Group Future Centers in Germany, the USA and China, designers and digital experts are working together on the vehicles of the future so that the Group can offer the best-possible customer experience and make optimum use of the latest technologies.
In the Commercial Vehicles Business Area, too, we are pursuing a future-oriented policy with the Scania, MAN and Volkswagen Commercial Vehicles brands, one of our goals being to become a provider of intelligent transport solutions. Offering vehicles under several different brands, Volkswagen Truck & Bus is to become a global industry champion, with a significant presence in all key regions of the world and with enhanced overall performance.
After the strategic realignment of the Volkswagen Group, the Financial Services Division will continue to support the brands' business models and remain an important source of revenue.
16 COMPREHENSIVE GROUP INITIATIVES
Enlarge image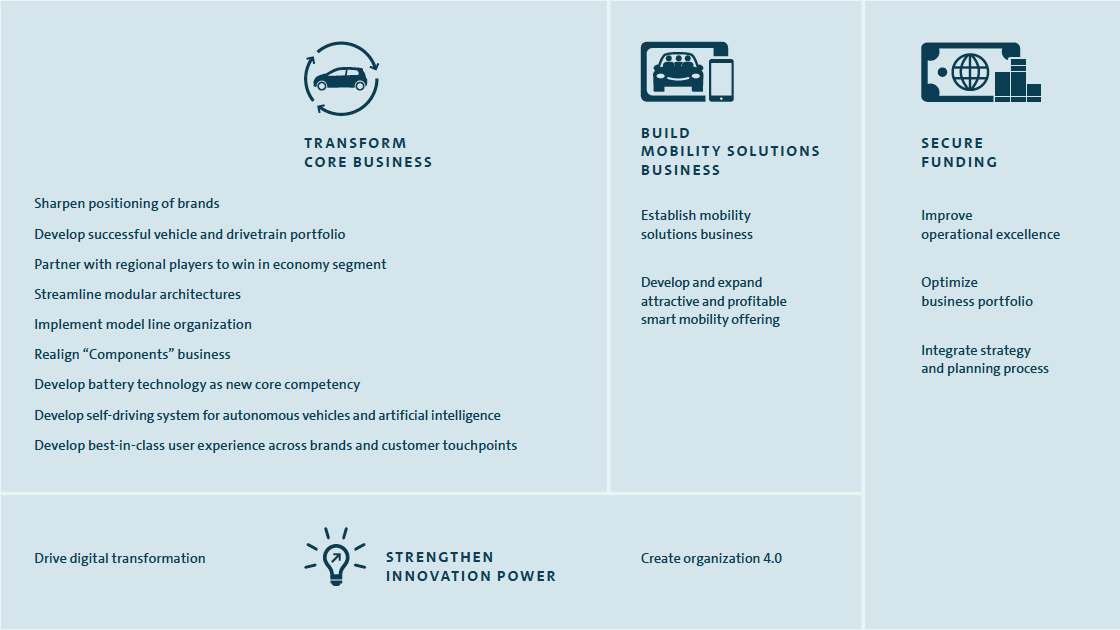 Second key building block: establishing a mobility solutions business
The second key building block of the new Group strategy is the new cross-brand mobility solutions business, in which we are setting up mobility services. In this context, we have established a new business unit with MOIA. This will center on ride hailing. Subsequently further attractive and profitable services that are tailored to customer requirements, such as robotaxis, carsharing, or on-demand transport for the logistics industry shall be developed or acquired. In order to achieve this, we will rely to a greater extent than previously on partnerships, acquisitions and venture capital investments. Investment selection will be managed centrally so as to generate maximum value for the Group and its brands.
We have secured the City of Hamburg as a strategic partner in our determination to become an end-to-end mobility provider. The focus of this partnership is on sustainable urban mobility concepts, intermodality, innovative vehicle concepts and technologies, autonomous driving and parking, and traffic flow management.
Third key building block: strengthening innovative power
Both the transformation of our core business and the new mobility solutions business require us to strengthen our traditionally excellent power to innovate and place it on an even broader footing. To this end, the Volkswagen Group is pushing ahead with the digital transformation in all parts of the Company.
This involves operational aspects such as Industry 4.0 in production and logistics as well as digitalization in sales. In addition, the Organization 4.0 initiative will put in place a more attractive, up-to-date work organization. Structures and processes will be changed in everyday work situations and an environment created that encourages open, collaborative working relationships across all levels.
Fourth key building block: secure funding
Becoming one of the world's leading providers of sustainable mobility calls for substantial capital expenditure. This expenditure is to be funded primarily through efficiency gains across all brands and functional areas: operational excellence is something that concerns the entire value chain, from product development and sourcing through to production and distribution. Additional funds for future investments can also be generated by optimizing the existing portfolio of brands and equity investments.
The continuity and even closer interlinking of strategic and operational planning enhances transparency when it comes to the financial assessment and the evaluation of directional decisions.